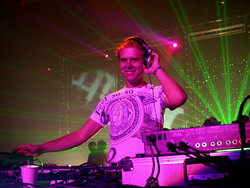 Yesterday Maria and I were in the club Pavilion in Nicosia where the DJ number TWO – Armin Van Buuren played his live mix. It was really amazing – the club, the sound, the laser performance, the absolutely crazy people around and, of course, Armin's mix!
Armin came to Cyprus second time this year. The first time was on 2d June.
So, Armin started his mix at 1:45. There was an another DJ who played really boring and annoying music. But Armin … Armin is the best! So, we had a good time!