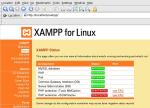 Apache Friends has built a very useful tool for web developers XAMPP.
There are three XAMPP distributions: for Linux, Windows and Solaris.
XAMPP for Linux contains following components:
Apache, MySQL, PHP & PEAR, Perl, ProFTPD, phpMyAdmin, OpenSSL, GD, Freetype2, libjpeg, libpng, gdbm, zlib, expat, Sablotron, libxml, Ming, Webalizer, PDF class, ncurses, mod_perl, FreeTDS, gettext, mcrypt, mhash, Turck MMCache, SQLite and IMAP C-Client.
This easy install and configure tool helps you setup a webserver with Perl and PHP and database using graphical interface.
Howto install and use XAMPP read here.