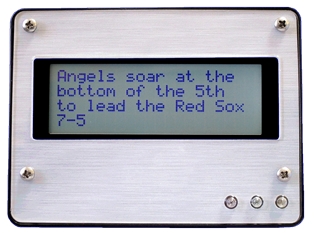 Mister Tipster is an another way to read RSS:
The small, stylish display unit allows users to keep current on all the latest headlines, financial news, weather reports, sports scores, blog updates and even jokes – all without taking space away from the spreadsheet, document, browser or game on their computer screen.
Mister Tipster has monochrome LCD display and needs open USB port and Internet connection to bring RSS. The device is $150. Maybe I missed something but you can add another $150 and buy Nokia770 which is much power and useful than this old-style gadget.
[via eHomeUpgrade]