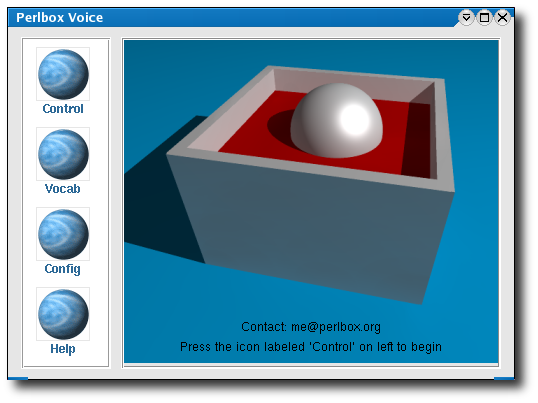 If you'd like to control your Linux PC using voice commands than Perlbox Voice is what do you need. It's a pure Perl application which features:
Text to speech (Thanks to the Festival speech synthesizer)
Voice control to open user specified applications. For example, if you say "Web", the Perlbox-Voice Control will open the browser of your choice.
Desktop plugins to control your Linux desktop using only your voice. You can switch virtual screens, cycle through desktops, invoke the run dialog, quick lock the screen. Currently there is a plugin for KDE.
Custom commands are fully supported, and you can add commands on the fly.
'Pseudo Commands' allow you to enter commands that the speaker should say. For example, if you say "Good morning", the computer voice could say "And good morning to you". It's all up to you.
The best thing is that you don't have to train the listening agent. The sphinx2 backend can be used by multiple people on the same machine without reconfiguration. It is also robust to background noise and ambient sound.
Easy to use and attractive interface built with Perl and Perl-Tk.
Uses to Festival Speech Synthesizer backend for text to speech and speaking functionality.